Before you make a purchase
, let Kinnek do the hard part. Submit a free request for quotes using the form to the right, and we'll get multiple suppliers to provide you their commercial juicer offerings and pricing so that you can compare all your options in one place!
Fresh-squeezed juice has become an increasingly popular offering in American restaurants, from smaller, family-run establishments to chic, high end hotspots.  Whether you run a restaurant or a mobile food service establishment, consider a dedicated juicer among the tools at your disposal.
Types of Juicers
Manual Juice Press
Juice presses are extremely common, and are often seen in smaller food stands or mobile food trucks (as space limitations restrict these businesses to the use of a manual juice press with a reduced profile).  Juice presses use a lever to apply pressure on a fruit, which pushes juice through a strainer.  They are generally designed to be used with citrus fruits, but some manual juice presses can handle a wider variety of items.
Citrus Reamer
Reamers come in electric and manual models.  Reamers work by utilizing a reamer head, which is a ridged, conical protrusion.  The user holds and turns the fruit against the reamer head, which pushes the juice out into the machine.  In electrical models, the reamer head is motorized and therefore spins automatically.  Reamers may come with either a collecting base, a spout, or some other method for holding the juice.  Reamers typically produce higher volumes of juice than simpler juice presses, though their use is limited to citrus fruits (whereas juice presses are somewhat more versatile).
Centrifugal Juicer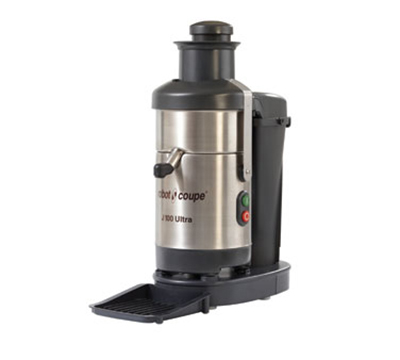 Centrifugal juicers are perhaps the most popular type of juicers found in commercial food service establishments.  To use a centrifugal juicer, the user pushes either fruits or vegetables (these machines are extremely versatile and can handle a wide range of fruits and vegetables, and can handle larger pieces thereof) down a feed tube, at the bottom of which a blade spins and chops up the items, pushing the resultant juice through a strainer.  Though centrifugal juicers are affordable, versatile, easy-to-use, and fast, they are also loud, not the most efficient juicers, and may create juice that is somewhat foamy at the top.
Pulp Extractor
Pulp extractors are less common, and are generally found in larger operations as they are capable of very high volumes of juice production.  Pulp extractors utilize a sieve and an extractor to juice a variety of fruit and vegetables.  As the juice is made, seeds, pulp, and other solid parts are deposited in a pulp waste container.  Despite the positives, pulp extractors produce a great deal of heat inside the juicer, which may oxidize the juice and create unwanted foam.  Oxidized juice does not last as long as juice for which oxidation has been minimized.  
Masticating Juicer
Masticating juicers utilize automatically spinning blades to cut up the fruits and vegetables, forcing release of the juice.  Like pulp extractors, masticating juicers continually extract solid parts (pulp, seeds, etc.) from fruits and vegetables and deposit them in a separate waste container.  Many owners love the masticating juicer for the fact that it efficiently produces juice with whatever ingredients are used (very little is wasted as the pulp is dry), it is extremely versatile and can juice a wide variety of ingredients including leafy greens, and it produces less heat than other juicers which minimizes oxidation and reduces foam.  Do keep in mind, however, that the juice making process tends to take longer as masticating juicer motors often run at a lower speed.
Automatic Juicer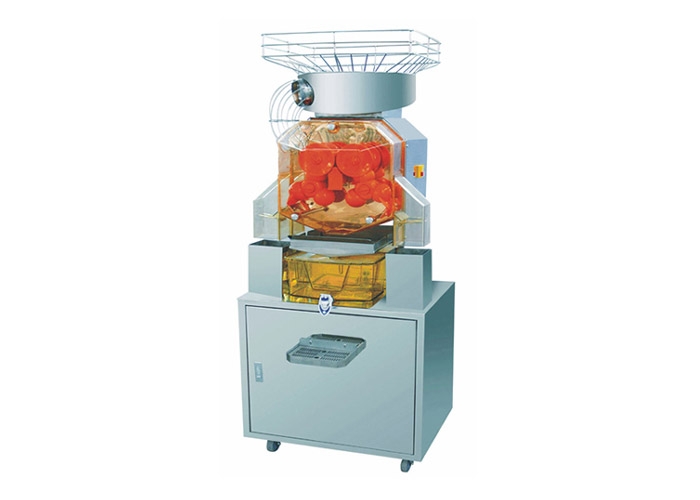 Automatic juicers are expensive, all-in-one units that do most of the work for you.  They are capable of bulk production, and as such, are popular with larger operations such as dedicated juice bars and smoothie stands, hotels, and large restaurants.  With automatic juicers, the user typically deposits the fruit and/or vegetables into a bin at the top and sets the machine up to juice.  From there, the machine automatically slices, squeezes, and juices while separating the solid parts.  Offerings vary from supplier to supplier, but most automatic juicers have nozzles or spouts for serving the juice, making the process from kitchen-to-table that much easier.