Before you make a purchase
, let Kinnek do the hard part. Submit a free request for quotes using the form to the right, and we'll get multiple suppliers to provide you with their food storage equipment offerings and pricing. This way, you can compare all your options in one place!
In every commercial kitchen, proper food storage is key to preserving freshness and delivering safe, delicious cuisine. There are a variety of food storage choices available on the market – comprised of different materials, different shapes, different sizes, and with different functions. The type of food storage equipment you choose will depend on your kitchen's priorities. You will have to take into consideration the cost, of course, but also food waste, stain resistance, microwaveability, freeze-ability, whether it is dishwasher-safe, flexibility and rigidity, efficiency, and size.
Good luck!
Food Storage Materials
When you approach suppliers for your food storage needs, you will be shown a great many material solutions, each with their own advantages and disadvantages. Choose the material that suits your business best – any equipment purchasing advice must be strained through the filter of your specific needs. What is optimal for another kitchen may not be optimal for yours.
Polypropylene
Polypropylene is a popular choice for kitchens, and especially so for those that do not frequently freeze foods and ingredients. Polypropylene resin is resistant to a range of temperatures from low to high, but it is generally not ideal for freezing temperatures. Polypropylene storage is therefore used in both hot and refrigerated environments (moreso hot environments, however) and the high heat resistance means that polypropylene containers can be microwaved and are dishwasher-safe.
Another advantage of polypropylene is that it is relatively cheap compared to the higher end storage materials (various polycarbonate solutions). Granted, it is still more expensive than polyethylene constructions, but it is also known for its sturdy, rigid construction, which makes it fairly impact resistant. If you drop a polypropylene container, it is less likely to break or crack, which can be of great benefit in a busy kitchen.
Polyethylene
Polyethylene comes in low density and high density variations, and it is not uncommon to find suppliers selling polyethylene bags in addition to standard, solid containers/pans. Polyethylene has two main benefits: price and versatility. Polyethylene constructions can handle freezing temperatures (low density moreso than high density), refrigeration, and even heat (it is dishwasher-safe, though its heat resistance is not as high as polypropylene, and it is thus not advised that any cooking/microwaving be done with polyethylene). Polyethylene storage containers/pans/bags can be frozen, refrigerated, Low density polyethylene (LDPE) is less popular for food storage, but low density bags are convenient and extremely low price. High density polyethylene (HDPE) is more popular for food storage in commercial kitchens, and they are more rigid and impact resistant compared to LDPE constructions, though, again, they suffer comparatively in terms of freezing temperature resistance. They can also be found in the form of 'plastic storage bags', with the added benefit of being more leak resistant.
Polycarbonate
Polycarbonate is a high end material that sees plenty of use in kitchens willing to fork up for the high initial cost to get versatile equipment that will last. If you're just starting out as a commercial kitchen and money is tight, this may not be the right choice for you: polycarbonate can run you as much as 4 to 5 times as much in costs as an equivalent polyethylene construction. On the other hand, some kitchens do find that the versatility and peace of mind is worth the extra cost. The benefits of polycarbonate are many. They are highly impact resistant, and have a moderately rigid construction. The material is also uniquely stain resistant, which helps save time and money in the long run in terms of maintenance man-hours. Perhaps most importantly, polycarbonate constructions have the widest effective temperature range compared to polyethylene and polypropylene. Whereas polyethylene cannot be microwaved and has a lower heat resistance, polycarbonate is microwave-safe and dishwasher-safe, and while polypropylene is not ideal for freezing temperatures, polycarbonate can be kept safely in the freezer without issue. This versatility is efficient, too, since it minimizes the damage if an employee makes a storage mistake. Polycarbonate is designed to handle a number of situations.
For high heat insert pans, some suppliers offer a modified form of polycarbonate – high heat polycarbonate – that can be used effectively in extremely high temperature situations.
Types of Food Storage Containers
Boxes & Tubs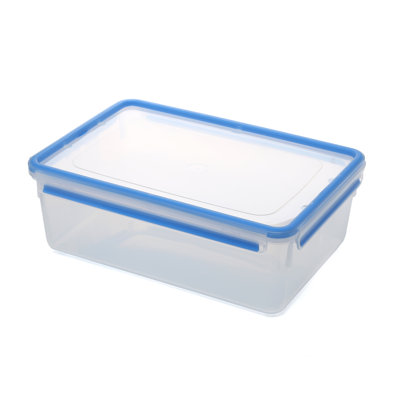 Boxes and tubs are the standard, default styles for food storage. They are typically high capacity and most suppliers offer a range of customizations including hatch lids and sliding lids. They are also designed to stack on top of one another to save space. In many commercial kitchens, employees immediately transfer ingredients to storage boxes from the sold-in box.
Insert Pans
Insert pans are versatile in that they can be moved from a prep station to a self-service buffet table to the back kitchen with ease, but for this versatility to work you have to operate these various stations. Otherwise, you're left with a smaller, non-stackable box. If you have the existing equipment necessary to make use of inserts, then it is absolutely worth considering an insert storage pan. Speak with your supplier so that you can also see what sort of specialized lids are available for the insert pans (suppliers often sell replaceable serving and holding lids, for example).
Bags
Though not as popular in commercial kitchens, you may be able to make use of food storage plastic bags as a holding vessel for vegetables and fruits and peppers. The possibility of tearing is what keeps many commercial kitchens away from storing ingredients in plastic bags, but some suppliers do offer tear resistant bags. Bags are cheap and can be fit into snug configurations with relative ease, so if you have small preparations for storage (a few peppers or a small quantity of a sauce, for example), a bag may be worth your while.