Before you make a purchase
, let Kinnek do the hard part. Submit a free request for quotes using the form to the right, and we'll get multiple suppliers to provide you with their self-service food holding equipment offerings and pricing. This way, you can compare all your options in one place!
This guide will focus on the types of food holding equipment as commonly seen at self-service businesses such as self-service buffets, convenience stores and supermarkets, catering companies, traditional full-service restaurants with self-service elements (soup, salad, etc.), cafeterias, banquet halls, and more.
There are many factors to take into account: gas or electric heating, space issues, whether the food holding equipment should insulate or heat, cost considerations, safety, and especially in the self-service setting – customer familiarity.
Suppliers sometimes offer highly customized products, so if you happen to have very specific needs, be sure to discuss these needs with your suppliers.
Good luck!
Safety Tip For Heated Foods
If you're purchasing food warming equipment, be aware of the actual temperature of your food and make sure that you keep it above 135-140 degrees Fahrenheit (and for meat, even higher – use
these guidelines
). Effective warming equipment should consistently keep the temperature of your food above this level, as if food is left to sit between freezing temperature and 135-140 degrees, bacteria flourishes and it can begin to spoil, affecting both the flavor of the dish and whether it is safe for consumption. To avoid such an event, some buyers choose to dual-warm their foods by purchasing heating lamps or heating strips to put above existing food warmers. Other buyers ensure that an employee is always on hand to stir and re-distribute food around the warmers so as to maintain even heat.
Suppliers know their equipment best – speak with your supplier in-depth about their equipments' heat effectiveness and if they have suggestions about how to setup the warming system to keep food at a safe temperature.
Equipment Types
Chafing Dishes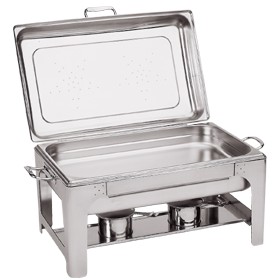 Chafing dishes are very popular among self-service buyers. They are most commonly utilized for smaller buffet setups, off-location catering setups, and at full-service restaurants with a buffet stand (or with an infrequent buffet service). Chafing dishes can be heated electrically or with a small canned heat source below the chafing dish. The source heats up a pan of water, which sits below the food pan. Remember to track any temperature issues, especially with regard to meats. Chafing dishes can be somewhat low power, so keep that in mind. There are three major benefits to chafing dishes: a) they are portable, b) they are cheap, and c) they are modular – that is to say, if you run a full-service kitchen but would like to allow customers self-service on a few items (dessert, perhaps) then you can purchase a couple of chafing dishes and set them on a side table. This is cheap, effective, and fulfills capacity needs precisely; there is no issue of overpurchasing.
Hot Food Tables
Hot food tables are the big step up from chafing dishes in terms of heating quality and consistency, though they are more expensive from the start. Hot food tables come in both portable and non-portable versions, and you can purchase smaller hot food tables (with fewer pans) if your capacity needs are less. Hot food tables are electric-powered, and an adjustable thermostat means that you can set-and-forget the temperature at whatever level is safe for the specific dishes being served. This is especially useful if you expect the dishes to sit out for a longer period of time, as heating consistency is more of an issue the longer that the dishes are left to sit.
Suppliers offer a diverse range of options when it comes to customizing your hot food table. Many suppliers offer an optional attached food prep table for cafeteria-style service, and there are also attached tray rails, end tables, sneeze guards, and overhead heating options available from most suppliers. If your business is significantly self-service oriented, and you are willing to spend for better quality equipment, a hot food table is a genuine upgrade to a chafing dish or set of countertop warmers.
Cold Food Tables/Bars
From the outside, cold food tables look similar to hot food tables – there's an inset large enough to fit several full-size pans to house various items, and it is insulated well to maintain cold temperature. Below the pans, however, there is an ice well (and a drainage system), where you put enough ice to make sure that your food is cooled to a satisfactory temperature. Cold food tables are commonly for salad bar setups, but can be used for any cold dish setup (desserts, appetizers, etc.). Like hot food tables, they come in tabletop and portable varieties.
What if you need both hot and cold food tables? If you have limited space and/or a limited self-service setup, but want the greatest amount of versatility, look into purchasing a
dual-temperature food table
. Speak with your supplier to learn more, and to determine the highest quality, most cost-efficient setup for your needs – it may be that you would be better served by chafing dishes and a cold food table, for example, than a true dual-temperature table setup.
Countertop Warmers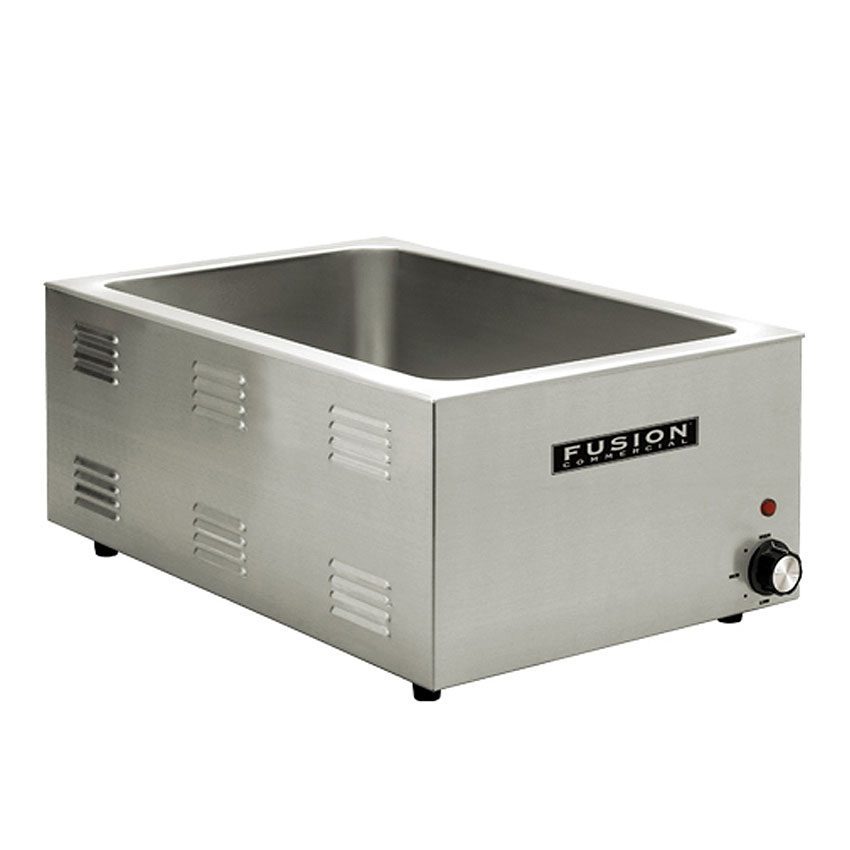 Countertop warmers are a diverse set – you can find a countertop warmer to maintain a safe, consistent temperature for nearly any type of food. There are soup warmers, rice warmers, condiment/sauce warmers, and more, though the most versatile are full-size food warmers and round warmers (round warmers can be used to heat both soup and sauces). Countertop warmers, like hot food tables, are electric-powered. They are cheap and modular like chafing dishes, but with greater versatility. On the other hand, do consider the aesthetic of a countertop warmer when finalizing your decisions. Some buyers find the selection of full-size countertop warmers aesthetically unpleasing, which, for self-service, may be enough to choose a chafing dish or hot food table instead, if only for the looks.
Sneeze Guards
Sneeze guards are a must for buffet service. Off-site or irregular self-service setups do tend to forgo sneeze guards, but there is no technical reason for why they shouldn't consider implementation. Most food tables (hot and cold) come with or have to option to purchase an attached sneeze guard. If you are building a chafing dish setup or a countertop warmer setup, however, you should consider investing in a freestanding sneeze guard to alleviate customer hygiene fears.
Merchandisers
A self-service heated merchandiser is a common way to implement self-service into a café or fast food setting. Generally, the self-service heated merchandiser is set on the counter with an open front and an open back, so that employees can make sandwiches/fries/etc. and set them in the merchandiser from the back. Customers can pass by the merchandiser and select among the easily visible choices, and then can take their food directly to the register. As far as customization options go, you can choose whether to have a closed back or closed front, and you can also choose how many shelves you'd like to equip the merchandiser with.
Heat Lamps
Heat lamps are a common, cheap, modular way to add overhead heat to your self-service dishes. You can even use them in the kitchen to heat replacement pans that are sitting out, waiting for the buffet pan to be finished.
Heating Your Food Warmer
Dry Heat Warming vs. Moist Heat Warming
Dry heat equipment is a fairly basic system – it works similar to an oven – while moist heat equipment contains a humidifier that releases heated moisture into the food area. Choosing a dry heat or moist heat warmer mostly depends on the dishes that you'll be serving. Generally, your choice will be based on a) length of time you expect food to sit out in the warmer, and b) the inherent ability of the food to dry out.
Soups, stews, sauces, and even some curries have no issue with drying out, so even if you left the food out in a dry heat warmer for a long period of time, you would likely experience very few moisture-related issues. As such, dry heat equipment is a perfectly reasonable choice for those food items (and other similar items).
Grilled meats, steamed vegetables, breads, and a whole litany of dishes, on the other hand, do dry out rather easily. If left in a dry heat warmer for a short period of time, these items may not experience any moisture-related issues. If left for a longer period of time, however, you will find that the food has dried significantly. Holding these particular food items at a satisfactory level of quality will therefore require a moist heat warmer.
As a self-service business, if you choose to purchase a moist heat warmer you'll want to look for one that features an anti-condensation tool. Anti-condensation will prevent the cover from fogging up, which would otherwise block customers from seeing the food housed inside.